Gift Vouchers
Give someone special the gift of some driving lessons for Christmas, Birthday or just simply because you want too. Purchase any number of vouchers and regardless of whether you buy one or thirty, each voucher is for a single hour. This allows the person taking lessons to use the vouchers individually or in multiples as they choose. Gift vouchers are supplied free of charge and come in a simple wallet with a gift label on the back to add your personal message. You should contact us using the form in the sidebar for prices and vouchers.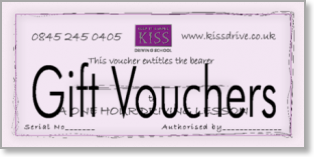 Flying Start Package
Ideal for beginners this flying start package comprising of 14 hours of driving lessons, training materials to help prepare for the Theory Test and the first Theory Test booked for you. Most learners should have achieved reasonable car control and should be able to move on too develop their driving skills to a higher level of competence.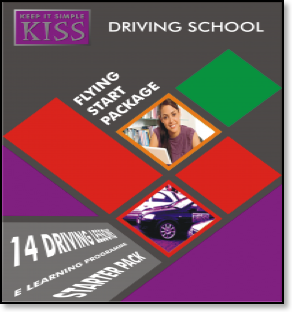 The fourteen driving lessons can be taken at any time to suit the learner although we recommend starting with two hours a week. Once you have passed the Theory Test the driving lesson frequency can then be increased.
Theory training materials comprise of either a copy of the " Official DSA Theory Book" or the Focus "All Tests" CD/Rom depending which format you prefer to study from. You will also have access to all of our on-line training aides and an invitation to our training days where you can get extra expert tuition. Contact us for prices
Block Booking & Student Discounts
Please ask your instructor about block booking discounts and our student discounts. Some of our Instructors offer a discount to full-time students and will need to see evidence of your student status.
Getting Started
Book your first driving lesson and get to know your driving instructor before you hand over more money. We train all of our driving instructors and guarantee high quality driving lessons. We also work in support of our driving instructors so much more than any other driving school in ways that benefit and help prepare pupils for test.
We want you to ensure you are happy with the services of your KISS Instructor from the word GO! So please do try one of the special offers to satisfy yourself of the high standard at which KISS Instructors teach.
The lesson fee is payable direct to your KISS instructor and can be paid by cash or cheque.
Contact Us Direct
If you have any queries or would like to book a lesson, you can call us on 0845 245 0405, email us using the form in the sidebar or text us on 07760 754 517. Our receptionist can answer any questions and will be able to put you in contact with your local KISS instructor. Your instructor will then ring you to introduce him/her self and find about about you. If you want to book please do so direct with the Instructor. The instructor will provide you with a mobile number for you to be able to make direct contact. Payment should be made direct to the Instructor.
Please note that our instructors ask for 48hrs notice if you need to reschedule an appointment as this allows the instructor time to resell the lesson space.